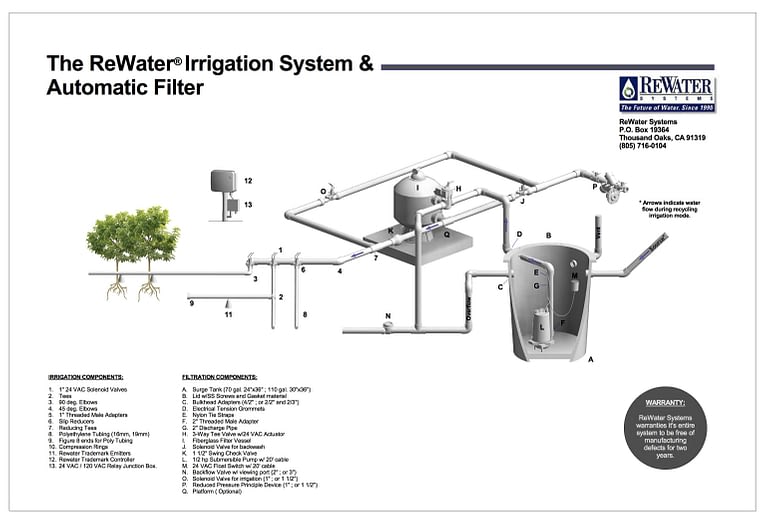 Everything you need for new construction
Every ReWater® system consists of a customized sand filter package to deliver filtered greywater to our proprietary subsurface drip irrigation package. These two packages form one complete ReWater system. Our systems have been proven to work with graywater from three decades of real world use. And they've improved from thoughtful evolution!
Our single-family filter packages include a surge tank that can stand alone or be buried, a pedestrian-rated bolt-on lid, water-proof grommets, wastewater backflow valve, heavy-duty high-pressure submersible pump, float switch, an outdoor-rated fiberglass sand filter vessel, with a fresh water valve to backwash the filter vessel, a pressure-reduced valve to provide supplemental irrigation when/if needed, and a reduced pressure principle device to protect the fresh water supply from a reverse flow of greywater, all of which is automated by our 5th generation ReWater controller.
Our highly cost-effective multi-family and commercial packages usually include a traffic rated two-chamber concrete surge tank, larger pumps, filters, valves, fittings, and 5th generation controller with 230 VAC pump capability. We also provide a simple modification to satisfy the City of Los Angeles and County of Los Angeles' air gap separation requirement.
Automatic irrigation
Both the filter and irrigation operations are controlled by ReWater's Complete Control™ controller. It starts irrigating when greywater is available, immediately sending filtered greywater to irrigation as programmed, and dosing valves sequentially so that all programmed valves receive some greywater. It stops when the tank empties, holding its place in the irrigation program until more greywater becomes available.
Using greywater immediately keeps it fresh and full of oxygen, which is good for the filter and plants. And your budget. Keep it simple!
Our outdoor-rated controllers have 156 features, including 4 independently operating programs, and operate up to 21 valves, making sophisticated irrigation easy yet very efficient under real-world conditions. Our controllers also automatically supplement any shortage of greywater with city water at the end of the day.
ReWater's customized irrigation packages come with all the valves, tubing, emitters, and hundreds of fittings you need. Each component has been tested over decades using real greywater so the complete system delivers an optimal irrigation experience over the long haul.
The guarantee of experience
Selective owners have chosen ReWater Systems over three decades because our systems evolved from our extensive experience with greywater irrigation, not sewage disposal, or rain collection, or something else. We guarantee our greywater irrigation systems will give you many years of trustworthy service.
The below view is an example of what our system looks like when installed, but there are countless iterations possible (see System Photos), given normal plumbing scenarios, building designs, and topography.
For a complete list of parts, visit our store.