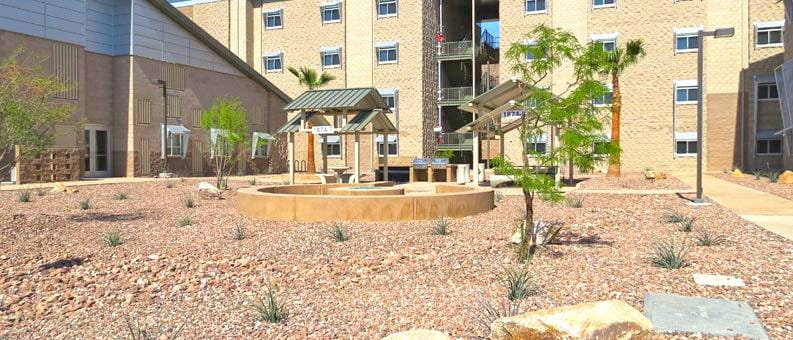 United States Marine Corps Barracks BEQ9, 29 Palms, California
Large military funded multi-system greywater irrigation projects
Very harsh environmental conditions
Indigenous species landscaping
In 2009-2010 the US Marine Corps base located deep in the high desert at 29 Palms, California was the site for an installation of 3 large ReWater greywater irrigation systems. They used shower and laundry water from three brand new modern barracks, each able to house 330 Marines, potentially producing over 8,000 gallons per day per barracks. These 3 systems irrigate high desert native plants over several acres of grounds, adding natural beauty while eliminating irrigation costs and reducing wastewater treatment costs. 115 degree summer heat. Sub freezing temps in the winter. Think Afghanistan, but with rattlesnakes in the shady spots, burrowing jack rabbits, and crawling insects that draw blood.
In 2013-2014 a similar project was completed at three more identical barracks at USMC Base 29 Palms, this time using only shower water, as not as much water was needed to support the native landscaping surrounding those barracks.
These projects won awards, and rightfully so.